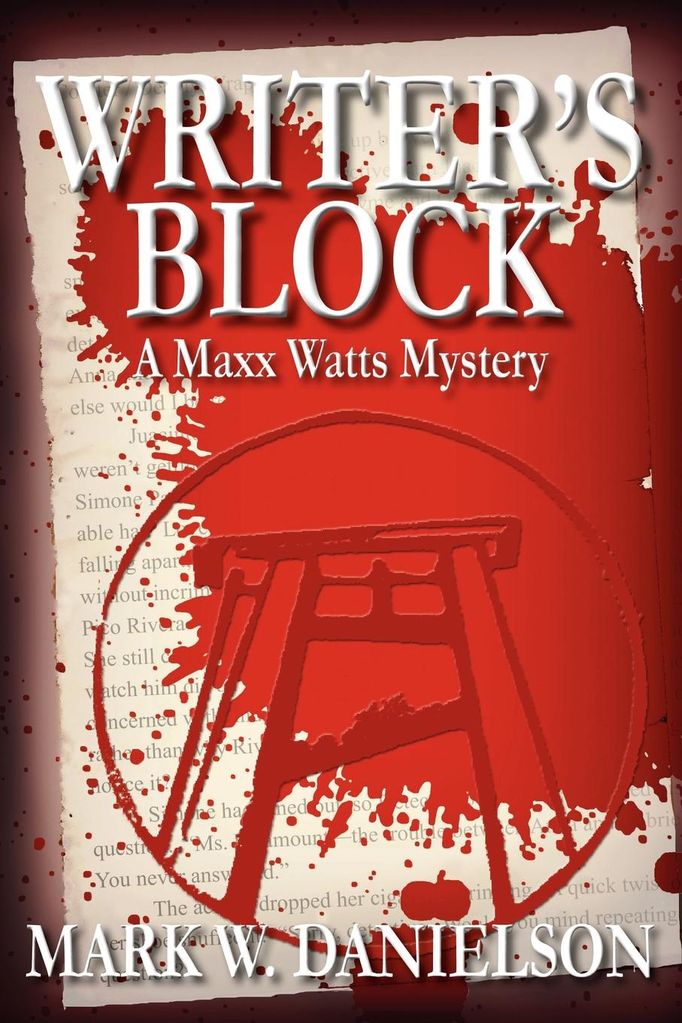 "Writer's Block is an incredibly suspenseful crime novel with a well-developed cast of suspects that maintains its mystery until the very end. As the first in a series, Maxx Watts comes across as a likeable character, a down-to-earth guy, one who bears grudges and has his own insecurities but when all is said and done is fair and caring. He is single, lives alone and hopes to find a woman to love … and maybe he already has. Readers will definitely be looking forward to his next case."
Mysterious Reviews
"Brace yourself, this book comes at you like a fire hose. Homicide cop Maxx Watts - that's double-X for excitement - makes for a compelling hero and his story is written by a man who knows how."
Shane Gericke, TORN APART
"Mark W. Danielson hits a home run out of the publishing ballpark with his first Detective Maxx Watts mystery. Writer's Block is an intriquing behind the scenes police procedural that keeps the reader guessing. Laced with humor as well as romance, it's definitely a book that's hard to put aside."
Jean Henry Mead, Murder on the Interstate
"You'll like Maxx Watts. He's just like us with a personal life and issues to work on. He's also a dogged, determined cop who'd rather follow his intincts than take orders from higher up."
Earl Staggs, Memory of a Murder
"A philandering publisher/writer gruesomely murdered, smacked on the head with a book memento, tied to a chair and a manuscript stuffed down his throat. Detective Maxx Watts knows someone felt white-hot betrayal. But who? A hot wife, who also served as a literary agent, someone feeding the deceased manuscripts of wannabe writers no one else would publish, or one of the writers who were swindled out of royalties as the deceased promoted his own books? Or someone else? Too many suspects; too many clues.
Mark Danielson hits his stride with Writer's Block. You won't care if the floors flood. Bravo!"
Ben Small, The Olive Horseshoe
"Mark Danielson's latest, Writer's Block, is a must read for fans of mystery novels. Its attentin to characters, smooth dialogue, brish pace, and cleverly structured plot kep me reading well into the night."
Shane Cashion, Govern Yourself Accordingly - The Chronicles of a Brainsick Lawyer
---
"Diablo's Shadow is written with such passion that the reader is drawn into the story, so much so that they might feel regret they cannot be part of the volunteer search party. It is a story filled with aspiration, indignation, panic, anxiety, and fear, all emotions that make a good suspense novel better. But there is also a very personal aspect, with love and hate, accusation and forgiveness. This is a superb, amazing, and breathtaking story, but these superlative adjectives do not adequately convey how powerful this novel is."
Mysterious Reviews
"Mark Danielson has crafted a poignant and powerful story of parental love after a young girl goes missing. Readers will find themselves rooted to the pages through a rollercoaster of emotions. You won't be able to put it down!"
Christine Goff, bestselling author of the Birdwatcher's Mystery Series.
"Diablo's Shadow is a deftly written mystery novel, sure to please fans."
Midwest Book Review
"This story sticks with you, long after you've finished reading it."
R.T. Lawton, author, The Twin Brothers Bail Bond Series
"A powerful story of loss, suspicion, and renewal. I lost some sleep over this one."
Ben F. Small, author, Alibi On Ice and The Olive Horseshoe
---
"Danger Within has established Mark Danielson as a premiere force inthe thriller genre." - John Hamilton Lewis (Basha)
"Riveting, fast-paced action." - Richard Sand (Private Justice)
"Danger Within is a fast-paced, good read. Improbable, even unimaginable at one time, but not in an airline world where everything has changed, post 9/11. Danger Within will hold your attention."
- Air Cargo News
"Danger Within is a fun, easy read by a FedEx pilot who knows the airline industry, can write a fast-paced tale of intrigue and mystery, and who keeps his reader turning pages in a furious effort to find out what happens next."
- Pacific Flyer
"Danger Within" is a well-written suspense/mystery you won't want to put down...I highly recommend this tale to anyone who enjoys a good story!
Ginger Johnson - Editor, Detective Mystery Stories
---
"We don't usually review fiction works in Airways, but here are two recent exceptions, both novels written by an airline pilot with extensive navy fighter training - and experience as a flight accident investigator. The first, The Innocent Never Knew, just published, concerns the crash of a flight carrying a U.S. Senator and the mystery surrounding that event and the seeming disappearance of one the onboard staff. Danger Within, published two years ago, revolves around a cargo DC-10 fire and crash landing where the crew survives but, again, there are mysterious things afoot.
What makes these especially interesting and even useful to Airways readers is the author's flight background and knowledge. He knows his way around a cockpit and understands both the lingo and concerns of flight crew. His background in accident investigation adds further to the sense of reality in both of these stories. That said, remember that these books are novels, and have a story to tell. Thus both are very much about characters, motives, and events, in which airliners and aviaiton play central roles. I won't go into their plots here - that could spoil your own reading. But rest assured that if aviation (and especially airline-based) fiction appeals to you, these should really do the trick."
CHS - Airways Magazine