Yo-Ho-Ho and a bottle of rum...it's a pirate's life for me!
Howl-o-ween 2011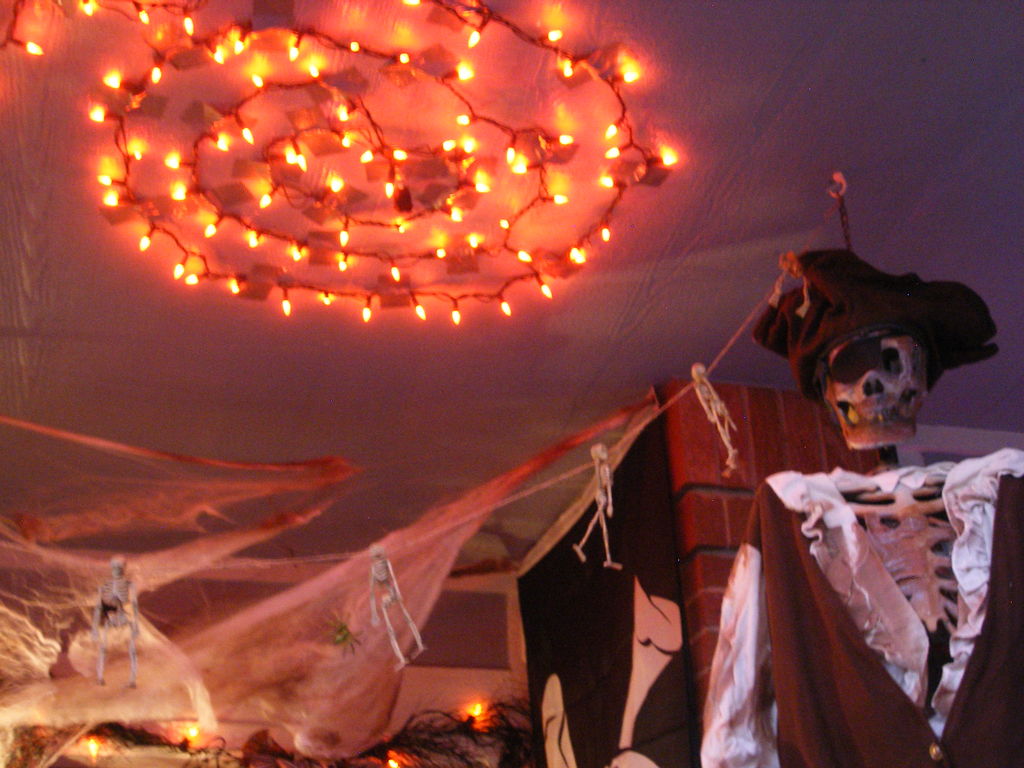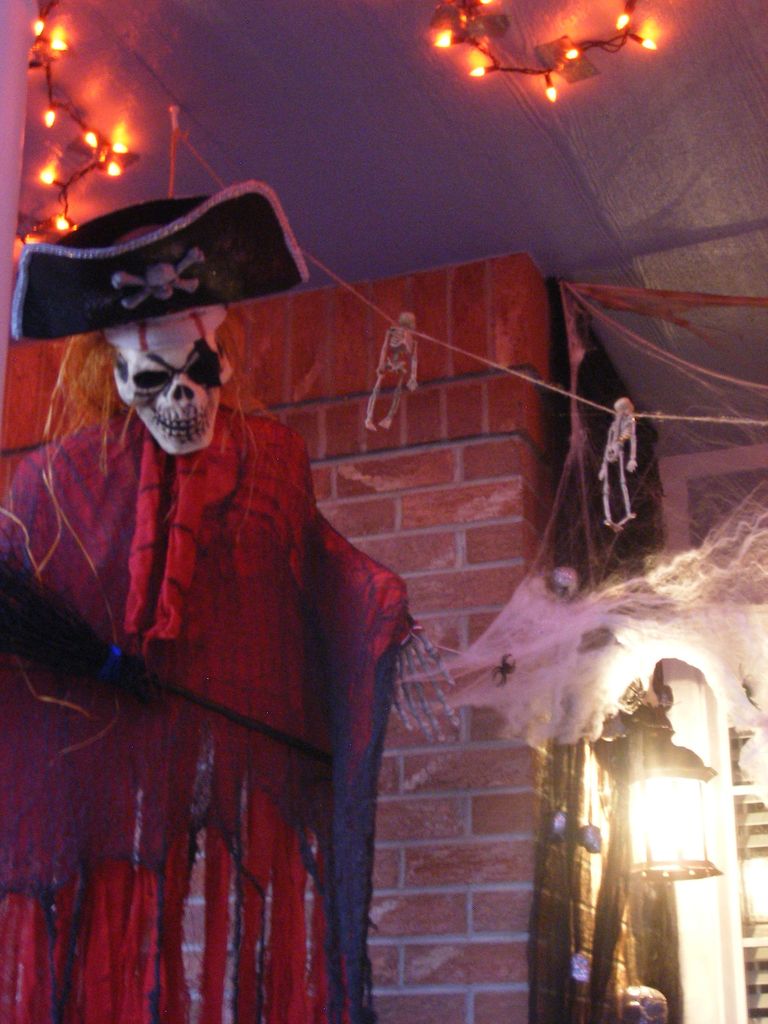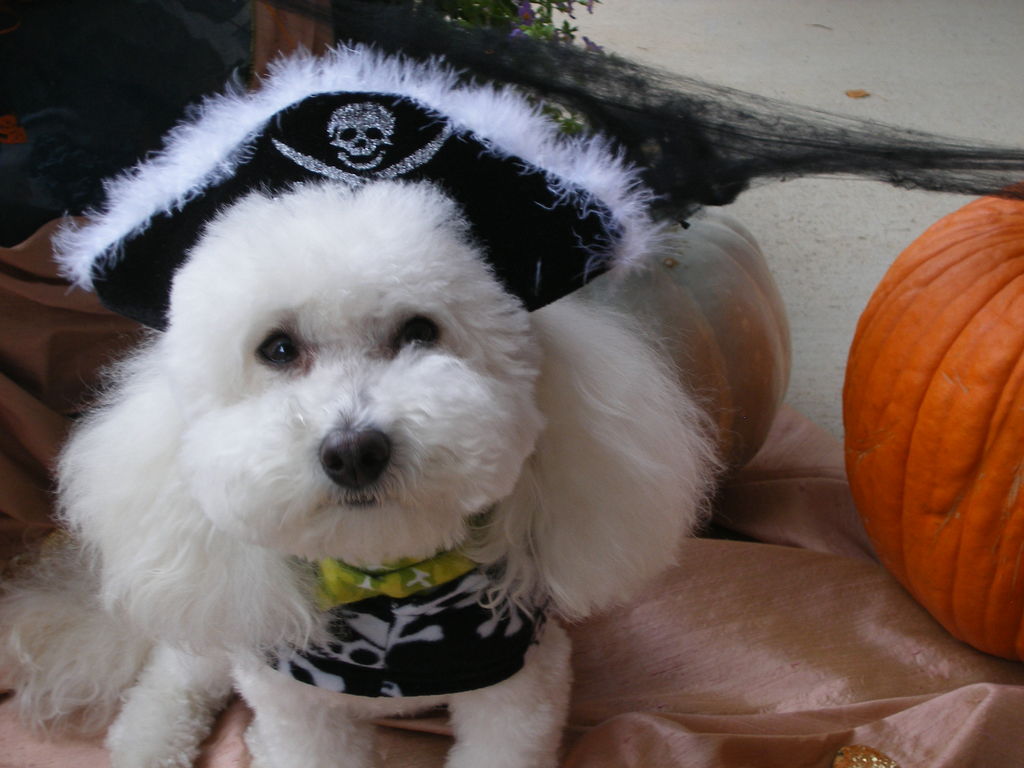 ---
Maxx in his "Howl-o-ween" costume - Oct. '10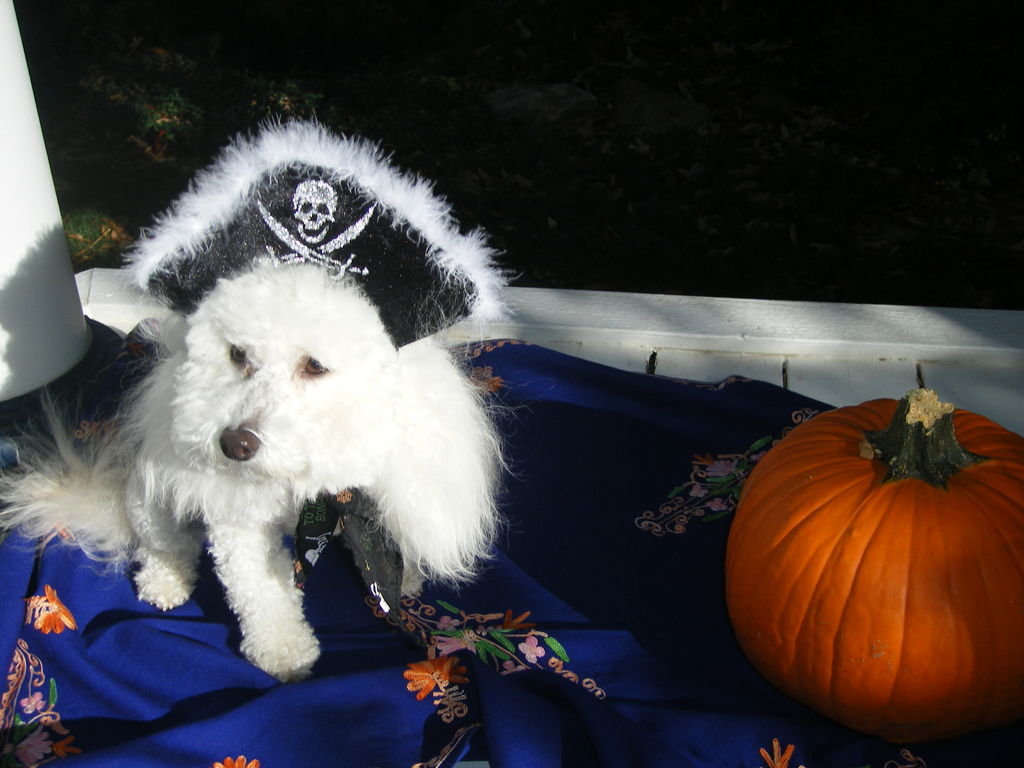 ---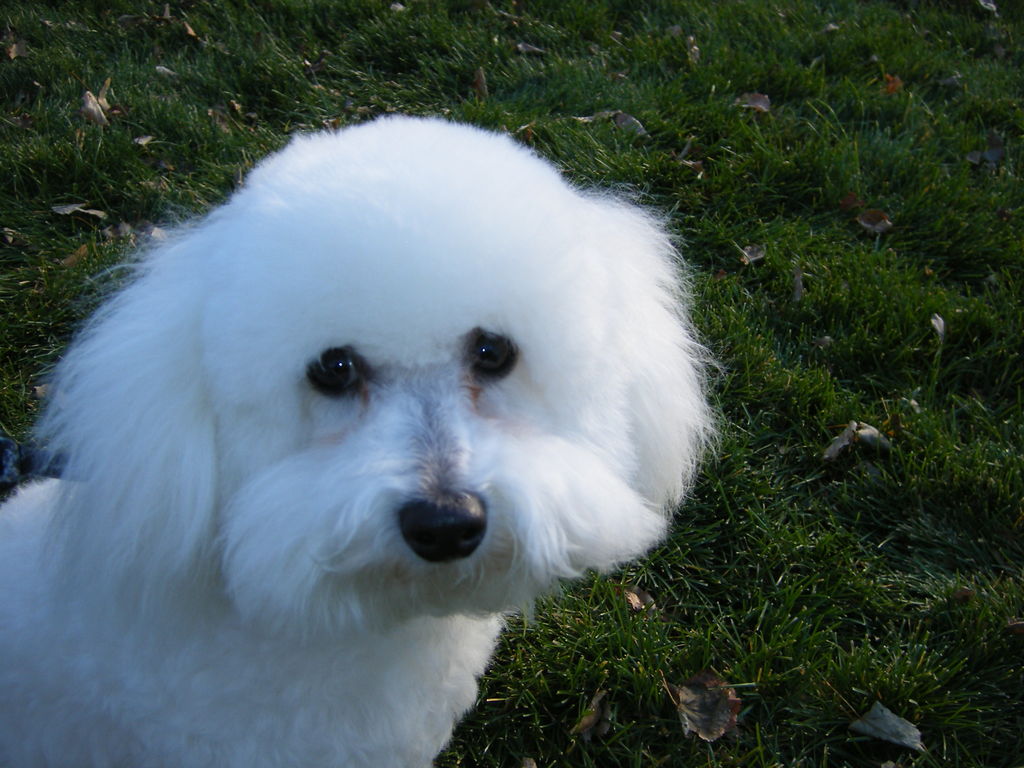 Hi Everyone.
Maxx here...Since my dad has been so slow in getting information out, I figured I'd take over for him. Never mind that I'll celebrate my first birthday on Christmas Day, I'm pretty sharp for my age.
So, what's Dad been doing all year? Well, he spends an awful lot of time writing for Flight Training magazine and the Murderous Musings blog, but he's also been working on a new Maxx Watts detective series. (Dad says that's where my name came from.) The first book in this series is titled Writer's Block. I'm telling you, this murder mystery has so many twists and turns, it makes my head spin. No, wait a minute - that was me chasing my tail. Anyway, Dad's well into the sequel called, Boxed In, and has the third book written in his head. Now, all he has to do is come to terms with the publisher so these books can hit the shelves. Unfortunately for Dad, this process seems endless.

Mom and Dad will both be attending the Men of Mystery in Irvine, California on November 21st, so I may be stuck in the slammer for a couple of nights. This is Dad's seventh year as a guest author, and he says it's his favorite author event. I can't wait to hear his stories about all the wonderful people he meets.
Meanwhile, the Murderous Musings blog recently received some special recognition, so I'm giving all of its six authors, Beth Terrel, Pat Browning, Jean Henry Mead, Ben Small, Chester Campbell, and of course, my dad, Mark Danielson, a high-paw salute, and I'm not referring to my rear leg! This blog's following continues to grow as word spreads. Of course, my favorite posts feature me! Woof!
---
Confessions of a Conehead...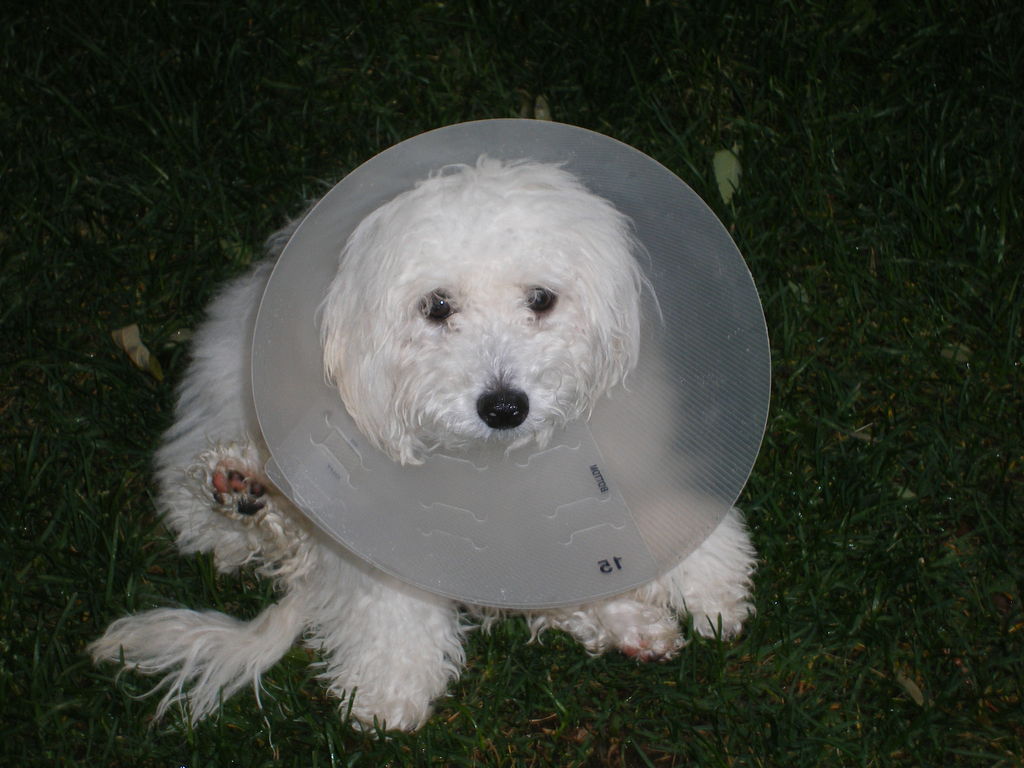 Hi everyone...
Maxx here. I'm filling in for Dad this week on the Murderous Musings blog because he's become rather frustrated with me. Why, you ask? Well, have you ever heard the expression, "What a pisser?" I've been doing a lot of that lately - inside the house. But it's really not my fault. After all, I never asked to wear the "Cone of Shame," and I'm quite sure I didn't ask to get neutered. So, if I've been a little lax with my restroom manners lately, it's because it's a lot easier to sniff the smooth floors in the house than the grass outside. I mean, come on - outside, I lower my head to find the perfect spot and bang! - my stupid cone hits the ground and jams into my neck! Now that really ticks me off - just not enough to relieve myself. No, sir. So, until this doggie megaphone comes off, I'll keep using the indoor plumbing. (Sorry, folks.)
Now, don't think that I've gone completely mad. After all, I'm only six months old, and I do use the pee pads most of the time. Frankly, I think that's rather considerate of me. But what's really funny is when I poop in the house. Get this - I work all day to create these presents and go to great lengths to leave them in obscure spots. So, what do you think Mom and Dad do when they find them? They bring me over there and show me - as if I didn't know where I left them - and tell me not to do that inside the house. Their lectures can be pretty amusing, considering how limited my vocabulary is. Thank goodness I know how to type! Otherwise, you'd never hear my side of the story.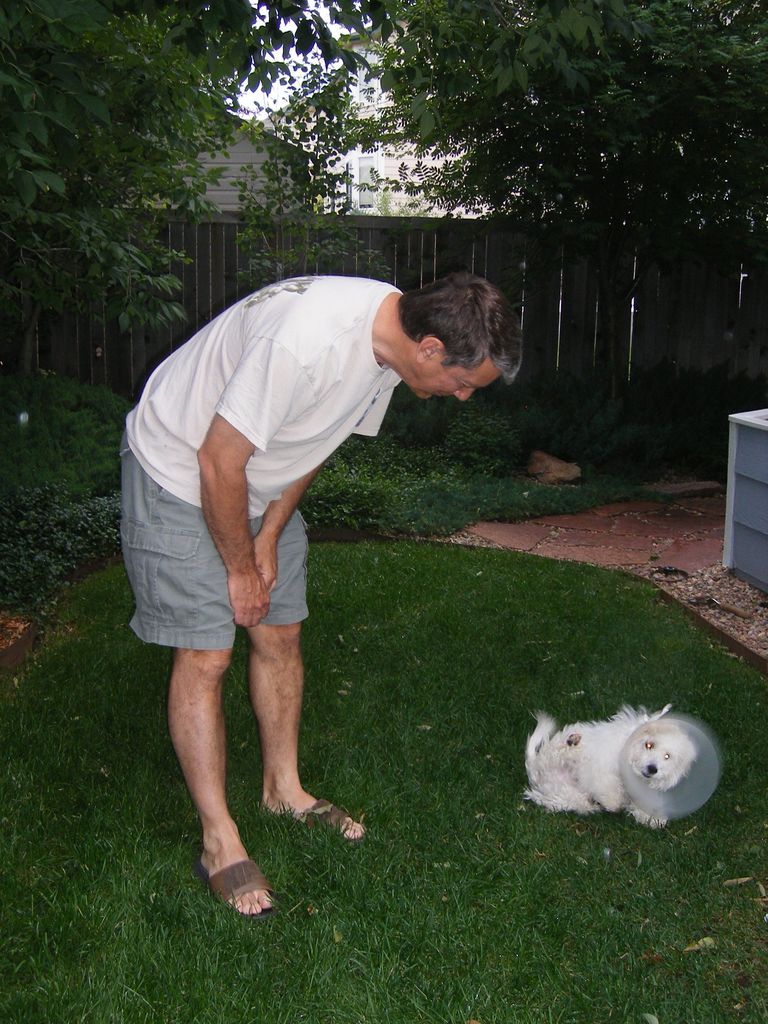 I've been wearing the "cone" for six days now, and I'm pretty sure I get it off today. If that happens, I'll gladly start peeing and pooping outside again. Maybe not 100% of the time, but I'll make a concerted effort, I promise - "cross my heart."
As long as I'm whining, let's talk about my parents' name-calling. Let me tell you, they can be pretty hurtful at times. It was bad enought when they called me a "Foo-foo," but now that they've decided to nickname me "King Fuafuapepepupu," I can't help but growl. How they came up with this, I'll never know - especially since I've never even been to Hawaii. Just wait Mom and Dad. One of these days I'll grow up and then - okay, I'll still be Foo-foo, but at least I'll be a man! What? Neutered means I'll never be a man? You mean I'll always have this squeaky voice? You say the Vienna Boys Choir is holding auditions? Yip, yip! Who knew life would be so hard for a little pup?
---
Just Call Me Maxx...
Hi everyone! I'm Maxx, a Bichon Poo born on Christmas Day, 2008. Coincidentally, my father's name was "Deablo," just like in Mark's novel, Diablo's Shadow. I guess that makes me a half devil. At least that's my excuse whenever I get into mischief. Whoof!
Now, some may say that Maxx is a silly name for a tiny puppy like me, but I was named for Mark's newest protagonist, Detective Maxx Watts. You'll be able to read about Maxx Watts whenever Writer's Block comes out. Writer's Block is the first in this new detective series, which offers a humorous look at the world of crime. I'll keep you posted.
Like Watts, I'm always sniffing around, seeing what's new. Of course, to me, nearly everything is new, but I do love investigative work. For example, I'm sure that others have been in my backyard, but I'm still kinda' figuring out what they are. There's something with a long bushy tail climbing fences and trees, and I've seen things appear and then disappear as if they've just flown away! Amazing stuff... The best I can do is bounce like Tigger. Oh, and this stuff that melts when I bite it? I love it, so long as it's not yellow.
I'm growing very fast. At 13 weeks, I'm already up to five pounds! Don't laugh - I'll easily double that before I'm finished growing. And don't call me a dust mop, either. For that matter, no, I don't do windows and refuse to serve as your powder puff. (Although that's what I look like.) But what I will do is make occasional appearances to keep you updated on Mark's latest activities. So stay tuned. I'll be seeing you around.